askON Virtual Reference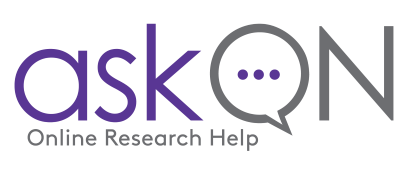 askON is a real-time virtual reference service via web chat and text message that offers immediate, interactive, and knowledgeable help online.  
Using software from LibraryH3lp, askON staff respond to questions on a wide range of subjects. They assist with research guidance, provide information about college library services, and can help visitors navigate other online resources.  
The askON service was developed by Ontario libraries and Ask Ontario. askON is operated by OCLS as a cost-recovery, not-for-profit service for college libraries and is guided by a Steering Committee of library leaders and staff drawn from participating libraries.  
Each participating college library contributes staff and funds to make the service possible. The service accepts requests from visitors outside participating libraries but may, depending on the availability of resources, refer users to applicable open-access resources and external services.  
askON Steering Committee
The askON Steering Committee recommends strategic direction and offers oversight to the activities of Ask Ontario. Their mandate is to:
Develop, in conjunction with OCLS, a sustainable funding model for the askON service.

Ensure the needs identified by library partners are reflected in the design and development of the service.  

Enable the askON service to take advantage of innovative and emerging technologies.

Review policies, monitor progress on planned activities, and set future directions for the service. 
Contact askON  
To get in touch about askON, please contact OCLS.