About Us
Vision | Values | Strategic Plan | Annual Performance and Value Indicators | 10 Years of Service
The Ontario Colleges Library Service (OCLS) was established in 2009 as a non-profit corporation to provide support for the Libraries and Learning Resource Centres of Ontario's 24 publicly funded Colleges of Applied Arts and Technology. OCLS provides services that create capacity, efficiency, and cost-savings across the college library system.  
OCLS receives operating funds from the Government of Ontario and reports to a Board elected by the Presidents of the member colleges. College Libraries Ontario (CLO), representing the directors (or designates) of libraries and learning resources of each of the 24 colleges, serves as an advisory group to OCLS. 
Vision

 
Our vision is for a transparent, equitable, and collaborative college library system that enhances the learning experience and student success at every college.  
Values

 
Accountability, equity, excellence, respect, and integrity are the backbone of our culture, but we also embrace new dimensions of agility, curiosity, and discipline. These values flow from and support our strategy and underpin our commitment to our customers, our Board, our funder, and ourselves. 
Strategic Plan
In 2019, as OCLS approached its 10th anniversary, we undertook a strategic planning exercise to assess what we established and identify what to plan for in the coming five years to ensure OCLS's continued value add to the colleges.  
With new challenges and opportunities facing the post-secondary education sector, and college libraries in particular, we believe that our Strategic Plan (2020 – 2025) defines a vision, mission, values, and strategic directions that anticipate the challenges and opportunities that OCLS will face.  
The Plan guides us in our role as a reliable service provider in the development and delivery of services to meet the changing needs of the college libraries, and valued facilitator of college library collaboration to help achieve cost savings and system-wide efficiency. 
For more information on OCLS's Strategic Plan, click the image below.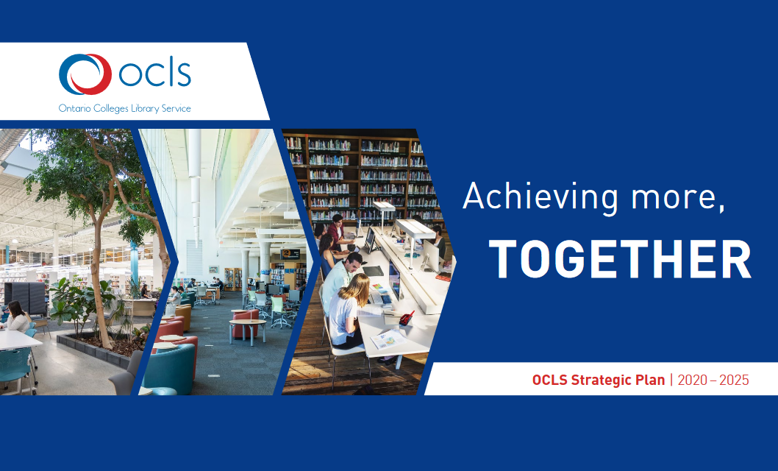 Annual Performance and Value Indicators 
A key element of OCLS's strategic plan is our commitment to demonstrate value. Since 2013, OCLS has been reporting performance and value indicators to its stakeholders. The summary from the past year is available on our Performance and Value Indicators infographic.  
10 Years of Service  
2019/20 marked OCLS's 10th year of service to Ontario's publicly funded college libraries since we formed in 2009 and launched our suite of services in 2010. We are incredibly proud of what we have accomplished in collaboration with the college libraries over the past 10 years. We have increased the number of services we provide, collaborated with the college libraries to continuously improve and keep pace with changing needs and technologies, and conducted, participated, and supported a wide range of vital projects in pursuit of our shared goal: improving equitable access across the college library system.  
This infographic highlights just some of what we have accomplished in the past decade. We look forward to continuing our work alongside the Ontario college libraries and are excited for all the future holds.