OCLS Strategic Plan
As OCLS approached our 10th anniversary, we undertook a strategic planning exercise to assess what we have established and identify what we should plan for in the coming five years to ensure that OCLS continues to contribute value to Ontario's 24 publicly-funded colleges of applied arts and technology.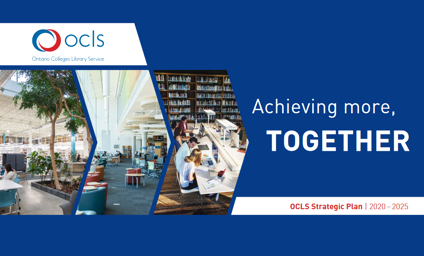 With new challenges and opportunities facing the post-secondary education sector, and college libraries in particular, we believe that our proposed Strategic Plan for the period 2020 – 2025 defines a vision, mission, values and strategic directions that anticipate the challenges and opportunities that OCLS will face. The Plan will guide us in our roles as a reliable service provider in the development and delivery of services to meet the changing needs of the college libraries, and valued facilitator of college library collaboration to help achieve cost savings and system-wide efficiency.
OCLS looks forward to building on the strength of the collaborative programs and relationships we have established, and to working with College Libraries Ontario and college library staff to meet the challenges and opportunities ahead as the college libraries enhance the learning experience for college students.